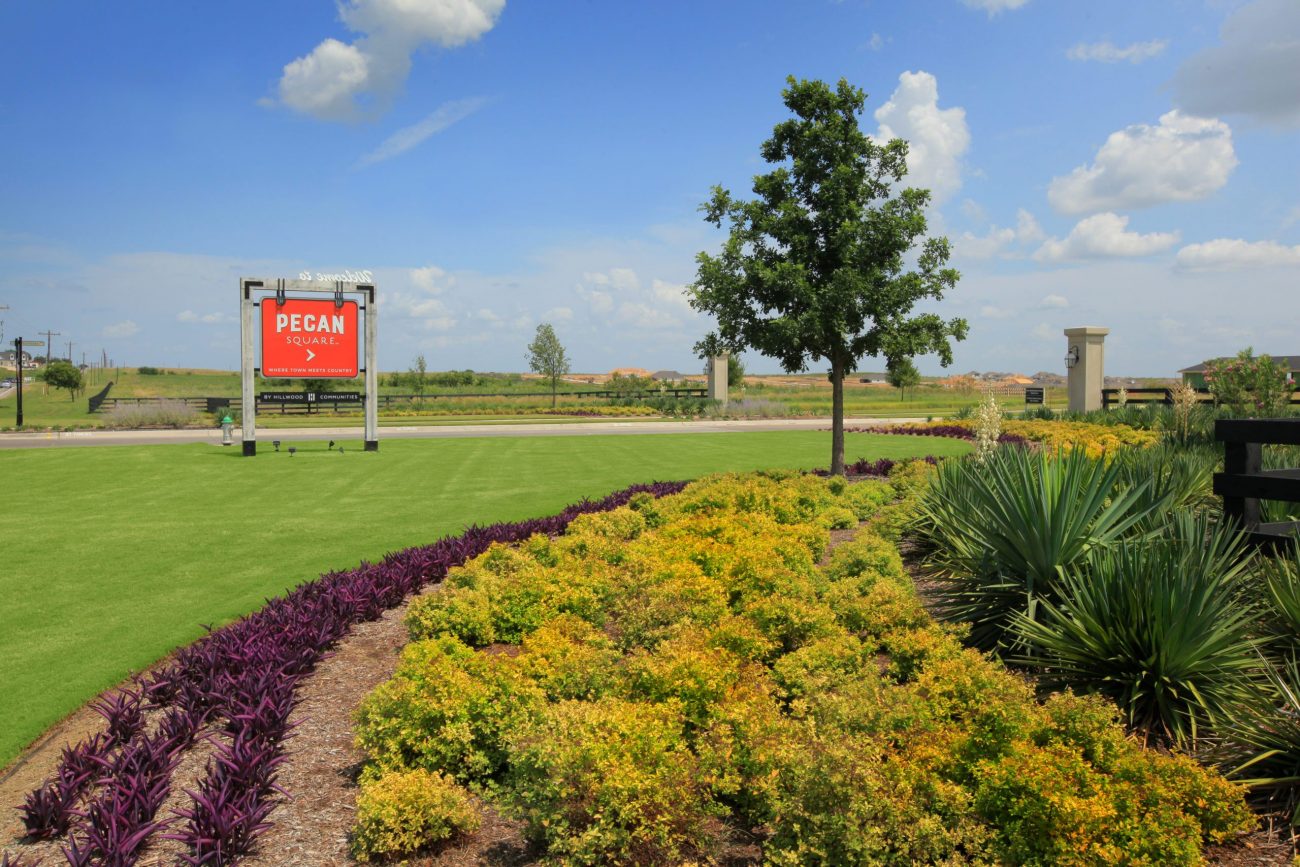 January 15, 2022
Dr. Moon, Horticulturalist: Helping Pecan Square Yards Look Their Best
Horticulturalists have a way of drawing out nature's inherent beauty. Within Hillwood Communities, we highlight Texas' natural splendor by intentionally nurturing our landscapes. But we don't do it alone.
Meet Dr. Robert E. Moon, professional horticulturalists, plant parent, and yard expert extraordinaire. If you've toured our new home community, Pecan Square by Hillwood, you know how seriously we take our landscaping improvements. It's one small way we prioritize the planet and connect our homeowners with trusted resources to help them do the same.
Here, we get to peek inside Dr. Moon's verdant world for a day in the life of a horticulturist and learn how he helps us stay committed to our environmental responsibilities.
Horticulture Day-to-day
Plants have their own individual lifespans, internal timelines, and unique needs. Dr. Moon is an expert in native Texas species and garden landscaping and has devoted his career to seeing them thrive.
His job description involves, "research which is designed to promote efficiency in the growth, harvest, and storage of crops. In addition, horticulturalists also work with ornamental plants, trees, vines, and so forth, developing new plant varieties, innovative landscaping techniques, and gardening styles for all climates."
When he's not getting his hands dirty, he uses his extensive knowledge base to write newsletter to our residents, plan the Pecan Square garden calendar, hold quarterly landscaping meetings with homeowners, and offer monthly gardening tips to help yards stay lush.
How He Keeps Yards Looking Great Year Round
Home landscaping isn't just a fun pastime. It's a way to connect with nature and your neighbors. It helps you plant roots in your community and grow something generations can enjoy.
Dr. Moon approaches landscaping from a place of aesthetics as sustainability. His home landscaping ideas to keep your yard looking its best, include:
Knowing your climate region. Not all plants do well in all climates. Some are heartier in cold weather and others will die off at the first freeze. Some are drought resistant and others will wilt as temps rise.
Figuring out which direction your house faces. Different plants have different requirements for sunlight. Knowing where the sun rises and sets is step one. You don't want to accidentally burn sensitive fronds to a crisp by placing them in a south or west-facing spot any more than you want to deprive a full-sun bloomer from the 6 hours of direct sunlight it needs to thrive.
Planning your watering schedule. Most homeowners know to adjust their watering routines based on things like seasons and drought conditions. Dr. Moon recommends getting familiar with these irrigation best practices to keep your yard and wallet full of green.
Understanding your HOA guidelines. Most new home communities like Pecan Square have an HOA with architectural guidelines for residents and their yard space. These guide homeowners in choosing which type of plants/shrubs/trees will work for their property as well as what types of structures, patios, and the like can be built to compliment them. Dr. Moon uses his extensive experience to help select plants that are best suited for North Texas' weather patterns and annual rainfall totals. Plants have been selected based on their ability to adapt and do well in our climate (hot, cold, dry, sometimes very wet in spring) without requiring too much irrigation. This thoughtful collection was designed with all levels of plant parents in mind from beginner to expert, with something everyone will love.
Yard Care FAQs
Now that you know the basics you can move on to perfecting your green thumb.
How does landscaping improve curb appeal?
You only get one chance to make a first impression. Landscaping sets the tone for the rest of your home.
Will landscaping add value to home?
A Virginia Tech study discovered that better landscaping may increase your home's value by 10 to 12%.
How can I improve my landscaping at home?
How can I improve my landscaping at home? Using native plants and following stated HOA guidance will help you ensure your yard can thrive in any season.

Take a Look at Pecan Square by Hillwood
Been dreaming of tending a yard that's all your own? Pecan Square by Hillwood is a homeowner's dream with a vast array of community events and activities for any hobbyist, beautiful new construction homes from DFW's top builders, unbeatable amenities, and our Canopy technology package included with every home (for when you finally have to come indoors).
Start your new home search now – spring is just around the corner!